The Iranian Experience
(2018 Update)
Our Commitment:
To preserve pre-revolution culture and dance research files for future generations
BBC World Service has sent a team to Sarasota to film Robert de Warren in relation to the 50th Anniversary of the inauguration of Tehran's Opera House Roudaki Hall, in which he was closely involved. A BBC Persia in Farsi short clip (with HIM Farah Pahlavi of Iran) is already on YouTube. Early in Robert's career as a principal dancer, he was forced to stop dancing due to a physical impairment. Dame Ninette de Valois, leader and founder of the Royal Ballet (where Robert had spent his formative years) sent him to Tehran at the invitation of the Shah, to bring the National Ballet of Iran up to international standards. A three-year contract became an eleven-year sojourn, as he encountered a culture striving for modernity. His life and outlook on dance changed forever.
A three-session lecture on this experience has had great success at ACE - Suncoast Technical College, Eastern Arts - Salt Lake City, Iranian Performing Arts at San Francisco Ballet's Headquarters and Cambridge Mas. It is now available for future events.
For information on this and all Mr. de Warren's activities, please register for updates.
Preserving the Cultural Treasures of Iran (Persia)
Robert de Warren's eleven year experience (1965-1978) prior to the Islamic Revolution accumulated a plethora of unique artisitic, cultural, mystical and ethnic documentation gathered through numerous research expeditions, becoming the cornerstone of the foundation on which The Iran National Folklore Institute was based. Post 1979, most cultural heritage institutions in Iran were closed, as the new order sought to purge expressions not fitting within their particular interpretation of strict Islamic law. Whereas Iran was a progressive nation making significant contributions to 20th Century development it regressed to almost medioeval conditions to its present position. Yet there is a young generation striving to be recognized.
The Persian diaspora worldwide is sensitive to their ancestral heritage and is eager to celebrate their origins and traditions thus insuring the future generation can be an active part of coninued learning and appreciation of their culture.
The Iran National Folklore Institue - Achievements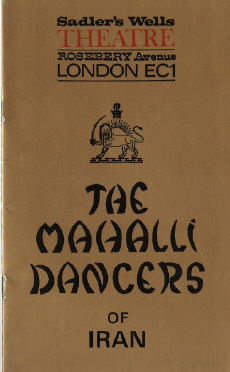 The Mahalli Dancers of Iran
| | | |
| --- | --- | --- |
| Historic | Tribal | Mystic & Urban |

The Future - Let's build together - An invitation to all Iranians with knowledge of their culture's traditions to contact us and share their thoughts on how to start this movement.
The Iranian National Ballot - Gallery