DANCE EDUCATION
LECTURES
Robert de Warren's lectures on dance are constantly updated, and they cover multimedia presentations from the Birth of Ballet in the 16th Century to the New Language of Dance in the 21st Century, as well as the most up-to-date trends. Lectures for the fall of 2018 are available now. View some of his lecture titles today. Contact us today to learn more about booking.
Rudolf Nureyev, Personal Memories of a Genius - Lecture Series
Nureyev was a close friend to Robert and Jacqueline. This memoir shares material until now held private. Nureyev had a wonderful and generous side to his personality unknown to most, even those closest to him. He was a great influence on Robert's artistic life.
Nureyev so enjoyed working with Robert's Northern Ballet that he became Artist Laureate, an exclusive honor. He performed a varied repertoire in our productions, including the Tchaikovsky Trilogy of "Swan Lake," "Sleeping Beauty," and "The Nutcracker." He also danced in "Miss Julie" by Brigitte Cullberg, "The Lesson" by Flemming Flindt, "Les Sylphides" (mounted by Dame Alicia Markova), and Robert's own production of "Coppelia." He was an inspiration to the young company who cherished his presence and advice. We would often enjoy a fun moment after a performance, whether in England, France, Italy, or anywhere else.
Ballet Tutoring
(FROM FALL 2018)
DEDICATED TO IMPROVING DANCE WITH EXPERTISE AND EXPERIENCE
AUDITIONS & COMPETITIONS Artistic and technical instruction. Unique tutoring that will prepare young dancers for successful competitions and auditions.
PROFESSIONAL DANCERS Artistic, technical and stylistic coaching for single variations or acomplete ballet interpretations - in multiple styles.
BALLET TEACHERS & BALLET MASTERS The Pedagogic Approach: understanding the development of: Artistry, Technique, Musicality and Style, to achieve the highest satandards in professional dance education and performance.


Nureyev danced in Robert's designed Swan Lake. It was nominated for the BAFTA - Sir Lawrence Olivier Award for best designer, scenery and costumes.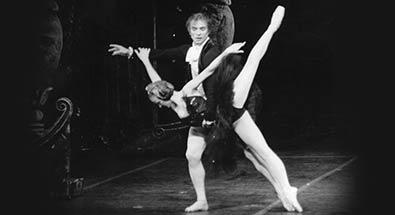 In Swan Lake with Paris Opera Ballet etoile Elizabeth Maurin.